Automotive Cyber Security 2025: the Secure Connected Car
£3,259 | Buy now Our report examines the current demand and supply status, including the regulatory status and offerings from leading companies in Automotive Cyber Security, and delivers forecasts on the development of the global Automotive Cyber Security market for passenger cars over the next decade, coupled with insightful interviews with leading cybersecurity vendors.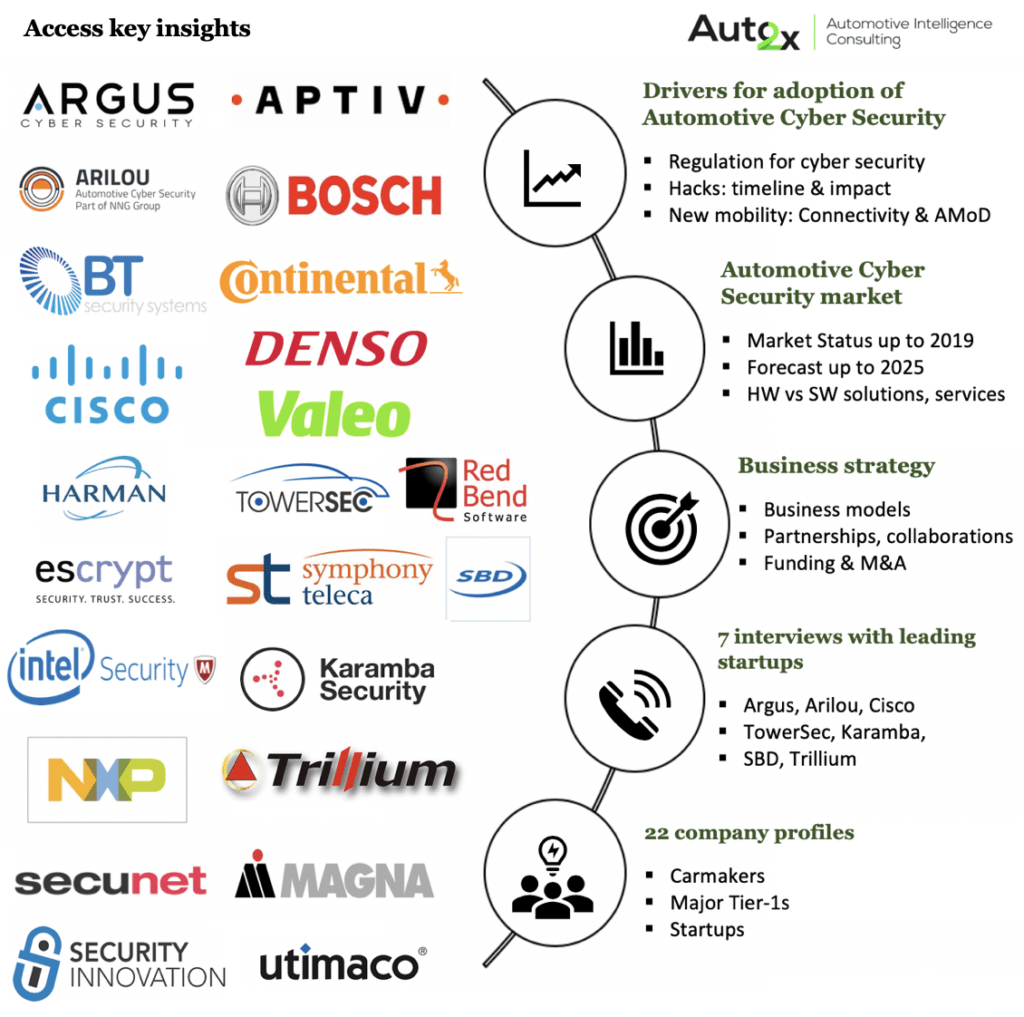 Automotive Cyber Security to rise over the next decade. As automobiles become more Connected and Fully automated, in-vehicle safety will expand from its physical dimension to yet cover the Cyber-Physical aspect.
A layered approach is required in addition to minimum requirements of "identification, detection, prevention, response and recovery we be mandated" which will probably become mandatory over the next five years. These drivers are expected to fuel growth in the Automotive Cyber Security Market
How prepared are global OEMs to rising cybersecurity issues? What kind of solutions do they already incorporate in their products?
What is the regional status of vehicle cybersecurity regulation, standards and best practices?
What are the software, hardware automotive cybersecurity solutions and services offered by leading vendors in 2019
Who will lead the marketplace?
How great will the discrepancy between cyber security and Connected Car penetration be over the next decade? How quickly will modern vehicles be secure and what challenges do OEMs face during this process?
In the wake of the recent car hacks by cyber security researchers, which demonstrate that Connected Car vulnerabilities exist, concerns about malicious attacks are real and imminent, as expressed by a joint announcement from NHTSA and the FBI in March 2016.
The era of the Connected Car is here but carmakers are not ready for the level of information security this requires
While OEMs strive to roll out more and more Connected Cars and models equipped with ADAS, in an attempt to gain competitive advantage and enhance costumer-loyalty, they face an important challenge. To ensure that these new types of modern vehicles guarantee not only safety but also secure internal-external data transmission and privacy against cyber threats. This is because connecting the vehicle to its external environment introduces what is called a Cyber-Physical System making the car susceptible to cyber attacks.
Additionally, as Vehicle-to-Vehicle and Vehicle-to-Infrastructure communications expand, they unveil another segment in the cybersecurity chain which can have even greater implications; therefore, it requires even more risk management. These drivers are expected to fuel growth in the Automotive Cyber Security Market.
Vehicle Cybersecurity is a key part of USDOT's Federal Autonomous Vehicle Policy
September 20th, 2016 saw the USDOT announcing voluntary federal guidelines for Highly Automated Vehicles (HAVs) to promote safe and secure AV testing and deployment across the country. Vehicle Cybersecurity is one of the 15 objectives of the Safety Assessment for AV testing and deployment with the USDOT stating that "The identification, protection, detection, response, and recovery functions should be used to enable risk management decisions, address risks and threats, and enable quick response to and learning from cybersecurity events."
DOT's decision not to mandate cybersecurity rules has attracted criticism from Senators Edward J. Markey, and Richard Blumenthal who introduced the SPY Car Act in July 2017.
---
---
Our 81-page report identifies the drivers that will fuel growth in the Automotive Cyber Security market over the next decade and provides a roadmap of adoption for Cyber Security solutions for Connected Cars. Additionally, it delivers an insight into the evolution of the market landscape, drawing conclusions from a panel of industry experts and our in-house expertise.
Table of Contents
1. Executive Summary

1.1. Penetration of Automotive Cyber Security & evolution of secure Connected Cars
1.2. Learn how the competitive landscape will change by 2025
1.2.1. Regulation
1.2.2. Funding & Investments
1.2.3. New mobility (AMoD) increases security requirements
1.3. Strategic recommendations to players
1.3.1. Car manufacturers
1.3.2. Automotive cyber security companies
1.3.3. Major automotive suppliers strengthening their cyber security competence

2. Automotive Cyber Security: state of the art in 2019
1. What makes Cyber Security a top priority for carmakers?
2.2. Learn about the Market Status of Automotive Cyber Security in 2019
2.2.1. Carmakers' cyber security expertise is low for the already high level of Connected Car penetration
2.2.2. There is no Automotive Cyber Security regulation in place
2.2.3. Demand for solutions is in its infancy despite increasing supply
2.3. Funding & Investments
3. Automotive Cyber Security Forecast 2025
1. Market definition
3.2. Automotive Cyber Security Penetration Forecast 2015 2025
3.2.1. Hardware vs software-based solutions & cyber security services
3.2.2. Forecast of cost of Automotive Cyber Security solutions per vehicle
3.3. Drivers of growth vs restraints & challenges for adoption
3.3.1. Drivers of growth for Automotive Cyber Security
3.3.2. Restraints and challenges of adoption
3.4. Global & regional Connected Car Forecast 2015-2025
3.5. Forecast of cars equipped with OTA Software update Capability by 2025
3.6. US V2V & V2I Communications Penetration Forecast up to 2025
4. Interviews with industry experts: insights from 7 buzzing startups
Argus Cyber Security Ltd
Arilou Technologies Ltd
Cisco Systems Inc.
Karamba Security
SBD & NCC Group
TowerSec
Trillium Incorporated
5. 22 leading suppliers in Automotive Cyber Security
Argus Cyber Security Ltd
Arilou Technologies Ltd
BT Security
Cisco Systems Inc.
ESCRYPT-Embedded Security
Harman
Intel Corporation
Karamba Security
NXP Semiconductors
SBD & NCC Group
Secunet AG
Security Innovation
Symphoty Teleca & Guardtime
Trillium Incorporated
Utimaco IS GmbH
APTIV
Bosh
Continental
Denso
Harman
Magna
Valeo
Other leading companies in the Automotive Cyber Security Market
For more information on this report, including sample pages and a full Table of Contents, please contact us on (+44) (0)20 3286 4562.