Auto suppliers Continental, Valeo and ZF saw revenues rise in H1 2022 but struggle to break even as the economic outlook worsens
The three major European auto suppliers together with Bosch recovered revenue losses but face further headwinds due to the worsening economic environment which will put further pressure on profitability.
According to the latest forecast by the World Bank, global economic growth is expected to slow down from 5.7% in 2021 to 2.9% in 2022.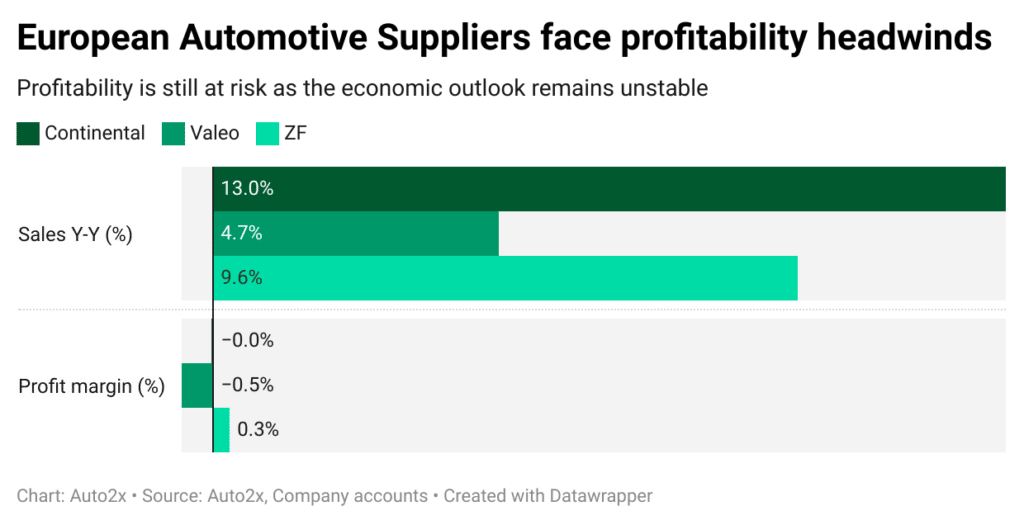 Automotive revenues account for the majority of sales for Bosch, Continental, Valeo and ZF. The disruption in supply chains from COVID-19 and the Russian invasion is expected to improve by the end of 2022 but the production of passenger cars and commercial vehicles will not improve significantly, which means that their automotive profitability is still at risk.
Most major European Auto suppliers saw revenues rebound in 2021 but the ongoing war threatens further recovery to pre-COVID figures
Auto Suppliers Bosch, Continental, Valeo and ZF posted higher revenues in 2021 despite the European market slowdown.
This comes after a turbulent 2020 that saw the whole automotive industry shrink as the coronavirus pandemic compounded the transformational challenges players face.
The slowdown in vehicle sales in Europe was offset by a strong order book and new products in ADAS, software, electrification among others as auto suppliers move to software-defined vehicles and mobility services, Auto2x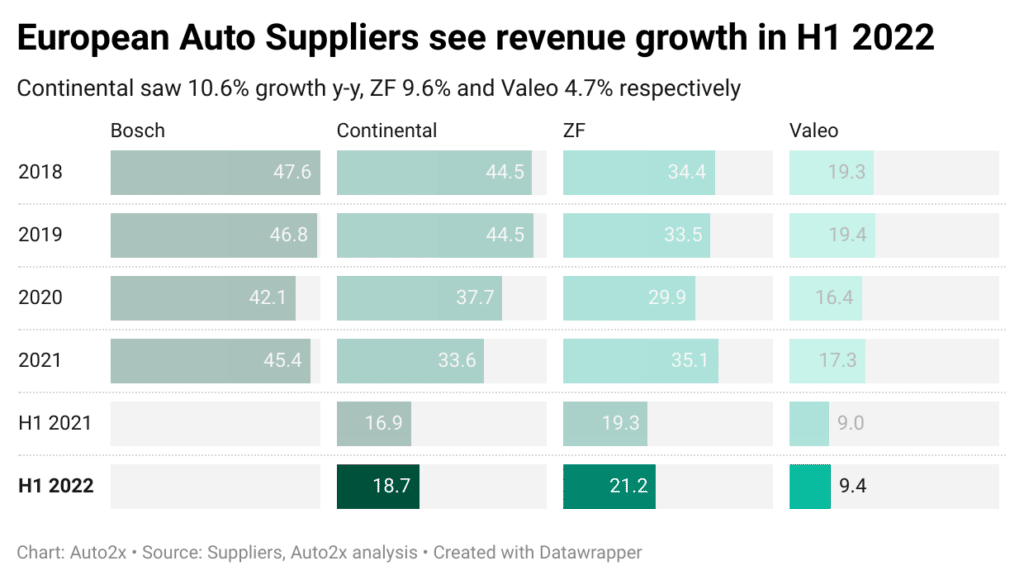 Bosch
In 2021, Bosch's revenues bounced back by 10% to €78.8 billion after a turbulent 2020 that saw the whole automotive industry shrink as the coronavirus pandemic compounded the transformational challenges players face.
Bosch's Mobility Solutions division, i.e. ex-Automotive Technology, includes the company's ADAS business. It accounted for 57.6% of Bosch's revenues in 2021, down from 60.3% in 2018, and it is benefiting from a broader push to make vehicles more intelligent.
Continental
Hanover-based Continental, the world's second-largest automotive supplier by revenue behind Robert Bosch, saw sales drop by 15.0% in 2020 to €37.72 billion. The company's Automotive Group accounted for 60.4% of total revenue in 2018 or €26.84 billion, an increase of over €26.73 billion in 2017.
The Continental Group is organized across three business areas:
Automotive Technologies: includes the Autonomous Mobility & Safety (AMS), formerly known as Chassis & Safety, and the Vehicle Networking & Information segment. Continental's Advanced Driver Assistance Systems (ADAS) is one of the four Business Units of the Autonomous Mobility & Safety (AMS) segment.
Tires (or Rubber Technologies)
ContiTech (ex Powertrain Technologies)
Continental's Q2 2022 sales grew 13% y/y to $9.62 billion. The company's Q1 revenue rose 8.2% y/y to $9.79 billion.
ZF
ZF surpassed Continental in 2021 by automotive revenues reaching €35.1 billion, up from €32.6 billion in 2020. ZF's Commercial Vehicle Technology division saw strong growth, similar to Electrified Powertrain and Car Chassis.
ZF Friedrichshafen AG manufactures and develops transmission systems and components, driveline and chassis technology, electronics and sensors primarily for passenger cars and commercial vehicles. ZF provides products and integrated solutions in the fields of mobility, transportation and autonomous driving.
The business units are assigned to the following seven divisions: Car Powertrain Technology, Car Chassis Technology, Commercial Vehicle Technology, Industrial Technology, E-Mobility, Aftermarket and finally Active & Passive Safety Technology. Since Jan'19, the 3 divisions Electronics & ADAS, Passive Safety Systems and Actively Safety Systems will be considered separately in reporting.
Valeo
Valeo reported H1 2022 net sales of EUR9.41 billion (USD9.6 billion) up 5% y/y. Valeo reported Q1 2022 net sales at $5.10 billion, up 1.84% y/y. Valeo has reported first-quarter net sales at EUR4.75 billion in Q1 2022, down 1.84% compared to EUR4.66 billion in Q1 2021.
Valeo saw revenues rise by 5% in 2021 to €17.3 billion, as all 3 divisions posted growth compared to 2020. Their "Visibility" business continues to hold the largest share, followed by Powertrain, Thermal, and CDA.
Valeo's Comfort & Driving Assistance Systems Business Group (CDA), which is responsible for the company's ADAS as well as its Comfort portfolio, recorded sales of 3.39bn in 2021, up from 3.2bn in 2020. In 2021, CDA's sales accounted for 19.7% of Valeo's revenues up from 2017 (€3.59bn and 19.4% of the Group's total sales).
Valeo claims they are the only player providing a complete technology portfolio for Automated, Connected and intuitive HMI solutions. They claim they are 1st worldwide in Driving Assistance realizing more than €4bn cumulated Order Intake.
Auto Suppliers benefit from the rise in car sales: 11.96 million car sales in Western Europe in 2021
Car sales in Western Europe grew by 1% in 2021 year-on-year, mainly due to the impact of the semiconductor shortage that negatively impacted car production in H2 2021.

ACEA
To learn more about the outlook of Automotive Suppliers in ADAS and Autonomous Driving, read our reports.