Auto2x registered more than 200 partnerships and supply chain activities in ADAS and Autonomous Driving in H1 2022, across 20 different technology and market segments.
Read why these partnerships matter for the advancement of the players' technological and commercial roadmaps.
Assess what they mean for the evolution of the competitive landscape in ADAS and Automated Driving.
Learn which automotive players had the highest activity and scored the most important commercial and technological partnerships in Autonomous Driving in H1 2022.
We assess the activity of players in Autonomous Driving by:
Vehicle segment into robotaxis and roboshuttles (AMOD); Conditional and Fully Automated Driving for passenger cars (SAE Level 3-4); Autonomous trucks (Level 3-4); Autonomous Deliveries; Unmanned Urban Air Mobility;
Technological building blocks: Sensors (lidar, radar, camera, HD maps, V2X, other), Computing (Chips); Actuation.
Partnerships in Level 4-Robotaxis & Roboshuttles (AMoD): Navya
Waymo, Cruise, Baidu and WeRide are usually stealing the spotlight in Automated-Mobility-on-Demand (AMOD). But this time around, another developer dominated partnerships, supply chain and relevant strategic developments in this domain.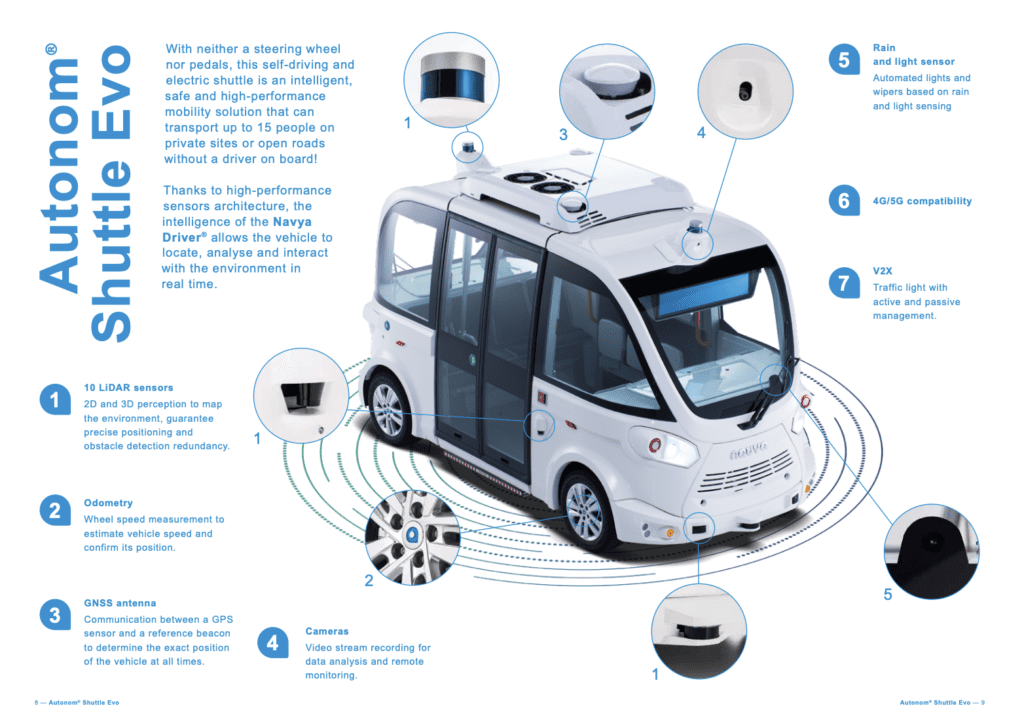 Navya expands e-roboshuttles in the Middle East & Japan, U.S and Scotland
Navya, the French provider of Level 4 autonomous mobility technology for the transport of people and goods, is expanding the geographical presence of its autonomous electric shuttles in the Middle East, Japan, the USA and Scotland.
Some of the new locations the company will access through MoU with the relevant government bodies in the Middle East are Bahrain and Saudi Arabia and distribution partners. To deliver and deploy the shuttles, Navya will work with Electromin, an eMobility turn-key solutions provider fully owned company of Petromin that offers EV charging installation and other services for businesses. Electromin, will distribute Navya's shuttles and logistics products in the MENA.
Navya's CEO stated that the company already holds "75% of the autonomous transportation market share in the Gulf Arab States". The company claims they have sold more than 200 units of its Autonom® Shuttle in 25 countries since its launch in December 2021. Their product in the logistics sector and transport of goods is called Autonom® Tract.
Why it matters: Saudi Arabia's ambitious sustainability goals to transition to clean energy solution, as defined by the Vision 2030, and develop new smart cities includes plans for fully autonomous, electric mobility for the movement of people and goods. The development of new connected infrastructure presents a unique opportunity to test, validate and deploy Navya's e-roboshuttles to business parks, universities, new smart highways and other locations.
Autonomous Trucks: Pony.ai expands to robotrucks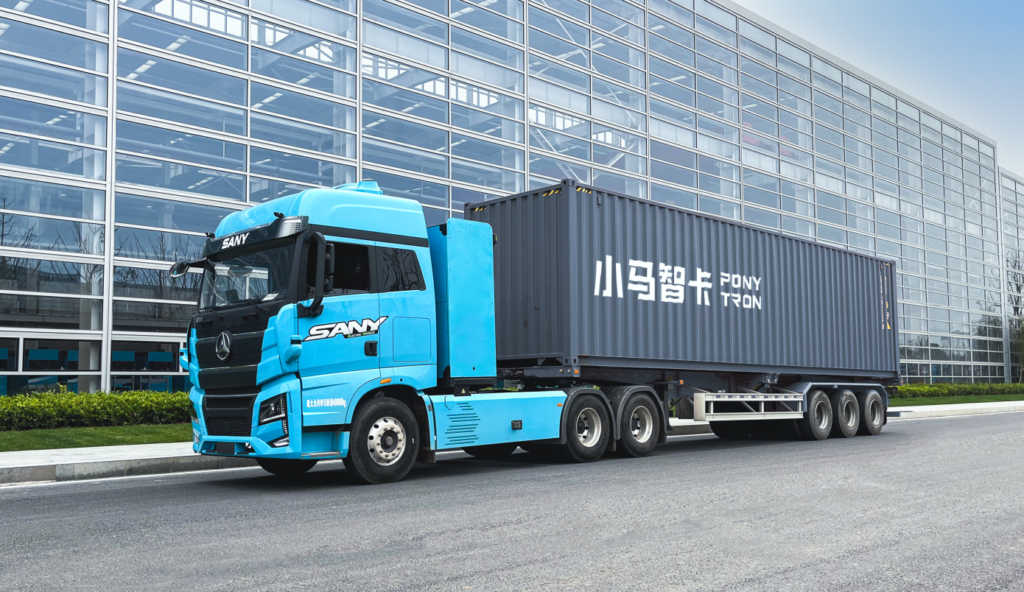 Pony.ai is widely known for its robotaxi deployment in the U.S and China. While its testing permit was withdrawn by the California DMV in May 2022 because of compliance reasons, in China, the company received permission to test its robotaxis in Beijing on public routes.
Recently, Pony.ai announced the expansion from robo-vehicles to robotrucks in China with Sany Heavy Industry. "Annual production is set to reach about 10,000 trucks "within a few years," according to a press release.
The company completed its Series D funding round in March 2022 with the funds expected to fuel this expansion.
LIDAR supply chain for Level 3-Conditional Automation: Valeo
The first half of 2022 experienced significant developments in the building blocks of Highly Automated Driving, Sense = perception, Plan = computing, Act = actuation and autonomous driving features. In this section, we focus on these supply chain activities between OEMs and Tier-1 auto suppliers that are closer to volume production, rather than partnerships for product development.
Some of the most important activities in the LIDAR supply chain for Level 3 Autonomous Driving features for carmakers included:
Valeo's 2nd gen Lidar, Scala 2, powers Mercedes-Benz's Level 3 DRIVE PILOT in the EQS and S-Class
Valeo's 3rd generation LiDAR, Scala 3 was chosen by Stellantis for its Level 3 automation
Mercedes-Benz partners with Luminar to industrialize and integrate lidar into series production vehicles
Hesai's AT128 lidar will feature in Lotus' new electric hyper SUV Eletre
Innoviz to supply LIDAR to VW Group's CARIAD
Baidu Apollo to use Innovusion's new ultra-long-range AI LiDAR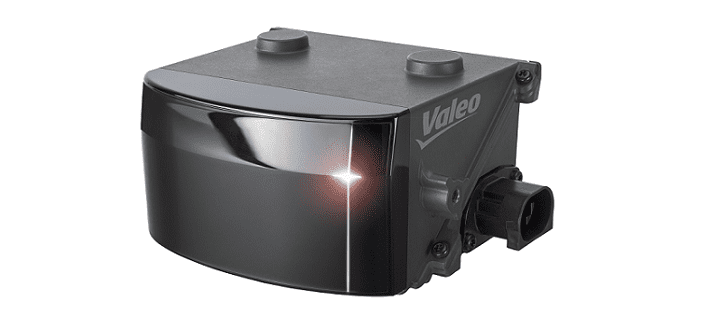 Valeo's strengths in LIDAR-based Level 3-Automated Driving continue with partnerships with Mercedes-Benz and Stellantis
Valeo was the first Tier-1 supplier to commercialize a scanning LIDAR sensor to support Audi's Level 3 AI-Traffic Jam Pilot in 2018. Even though Audi's Level 3 launch faced deployment challenges due to regulatory blocks, it demonstrated Valeo's readiness to produce a critical sensor for redundancy in a Level 3-Driving feature, as well as Level 2-Remote Parking.
In 2020-21, Valeo's Scala featured in Honda's first-ever Level 3 system in Japan in Honda Legend.
Fast-forward to 2022, the French supplier is extending its lead in the LIDAR domain with deals to supply its Scala sensors to two other major car manufacturers.
Its 2nd gen Lidar, Scala 2, powers Mercedes-Benz's first-ever Level 3 DRIVE PILOT, which is already available for sale in Germany.
What's more, Valeo will provide its 3rd generation LiDAR, Scala 3, to Stellantis, the joint venture between PSA and FCA for its Level 3 automation. Scala 3 is coming in 2024 and offers 50X resolution vs. Scala 2 and +200m range.
Valeo's Comfort & Driving Assistance Systems Business Group (CDA), which is responsible for the company's ADAS as well as its Comfort portfolio, recorded sales of €3.39bn in 2021 or 19.7% of the Group's total sales, up from €3.2bn in 2020. Valeo is currently one of the largest suppliers of cameras, radars, lidar and ultrasonic sensors.
More carmakers in Europe and China have announced plans to adopt LIDAR for high-speed, multi-lane Level 3 by 2025. LIDAR is a key technology for L3-5 autonomous driving due to the fact that it offers a simultaneous 3D digital model for object recognition and accident prevention. Therefore, we expect competition in LIDAR for L3-L4 to intensify. Continental's Flash Lidar, Magna's solid state Lidar with Innoviz, present strong competition for Valeo.
Key collaborations in Chips-Computing for Automated Driving
Qualcomm aims at challenging Mobileye's leadership in SoC for Autonomous Driving
Qualcomm will supply Volkswagen Group's CARIAD with SoC chips for Autonomous Driving. Qualcomm's Snapdragon Ride Platform's system-on-chips (SoCs) will be paired with CARIAD's own software requirements.
At the same time, Qualcomm will introduce a new computing architecture for General Motors Ultra Cruise. The company's 3rd generation Snapdragon Cockpit Platform will power Mahindra's all-new Scorpio-N.
Finally, Qualcomm, Arriver and the BMW Group have recently formed strategic cooperation for the joint development of Automated Driving software solutions.
Other important partnerships in this domain:
BMW to use domain controllers from Valeo (June 2022)
BYD to use Horizon Robotic's Journey 5 chip coming in mid-2023
Hyundai extends its partnership with IonQ for object detection using quantum computing
Jaguar Land Rover announced a strategic partnership with NVIDIA
---
Learn more
To learn about the whole spectrum of partnerships across all ADAS and Automated Driving technologies read our reports below. What's more, to assess the market position of Valeo and Qualcomm in Autonomous Driving and its market shares in Lidar, radar, camera and computing, read our reports:
Cover Photo by Cytonn Photography on Unsplash