After almost 3 years in the making, the amendment of UNECE Reg. No.79-Steering Equipment will allow Level 3 in countries adopting the new rules called "Automated Lane Keeping System"
Germany, France, and Japan expected to be among the first. But the USA does not follow the same regulatory framework
Mercedes-Benz, BMW, Nissan, and Honda are among the carmakers announcing a shift to Level 3 from 2021 – Audi, Tesla expected to join
Regardless, ADAS Lv.0-2 will be the most prevalent by 2025
Today regulation restricts Level 3 in UN R.79 counterparties incl. the EU, Japan, and China
Regulation delayed the transition to "conditional eyes-off" from 2017 to 2021-22 in signatories of UNECE N.79 giving an advantage to the USA, which follows voluntary guidelines instead of mandates for type approval. However, Audi lost its head-start to deploy Lv.3 in the US whereas Tesla's FSD is still a hands-on Level 2 system.
Going beyond today's status of Automated Driving, which is SAE Lv.0-2 with the latter meaning the drivers must always be in control even if ADAS are active, would require a new approach to the road traffic-otherwise drivers would be breaching their legal obligations. Regulators and technical groups have been trying to amend the R.79-Steering Equipment to allow the system to control the vehicle during "automated mode" with the driver as a fall-back.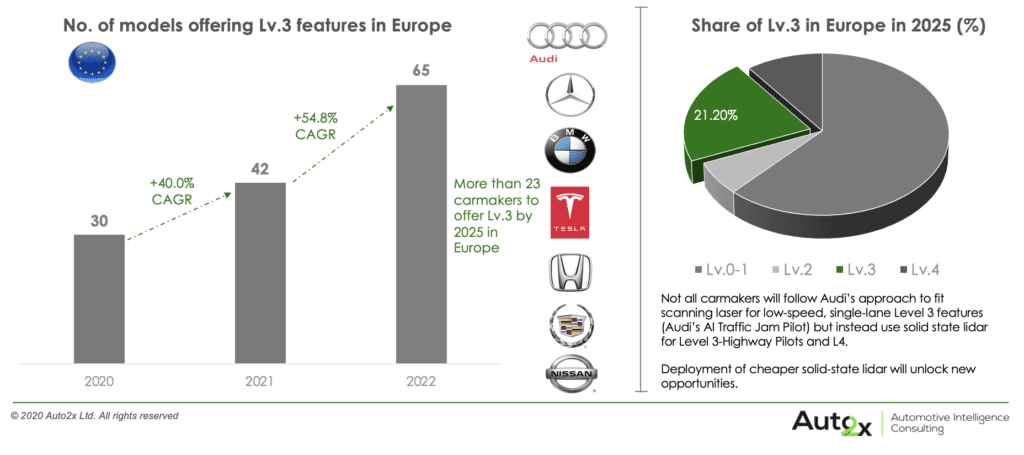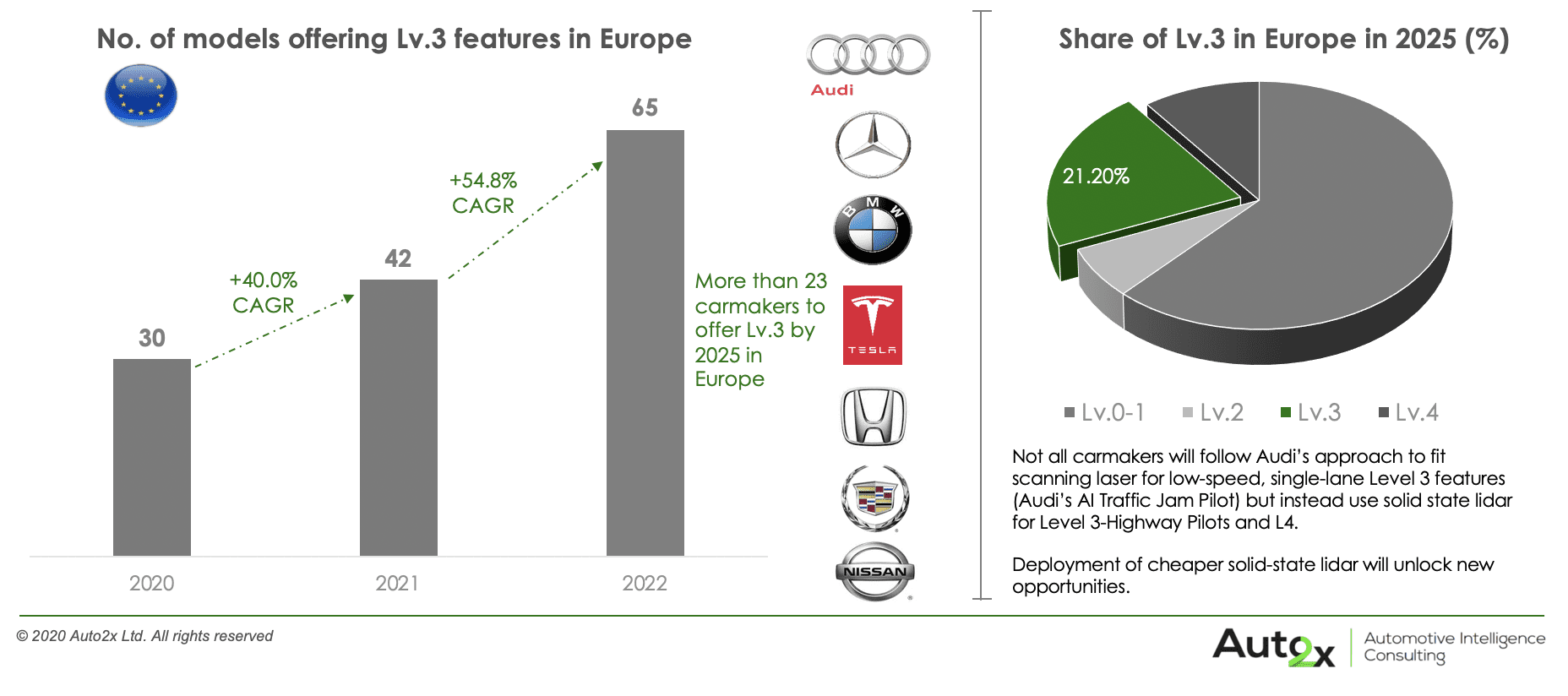 The introduction of L3 driving features will allow the driver to take his/her eyes-off the road during the automated driving mode since the ADS will be responsible for monitoring the road when it's in active mode. This presents engineering challenges to the automotive industry in terms of robustness, validation as well as technical and ethical issues.
What is more, the introduction of these systems falls under regulatory approval both at an international level (e.g. R79) and at a national level (domestic traffic laws). Work is being done on both aspects of major car markets.
UNECE's Automated Lane Keeping System regulation is applicable for LEVEL 3, for low-speed (60 km/h) highway-only
In Jun'20, the UN announced the ALKS regulation which is set to apply to 60 countries including the UK, Japan, and European Union member states from January 2021, to enable the safe introduction of 'Level 3' automation features in certain traffic environments.
UN regulations manage pre-sale Type Approval, i.e. the Regulation sets out clear performance-based requirements that must be met by car manufacturers before ALKS-equipped vehicles can be sold within countries mandating the Regulation.
Table Requirements of Automated Lane Keeping Regulation (Text here)
"Automated Lane Keeping System (ALKS)" for low speed application is a system which is activated by the driver and which keeps the vehicle within its lane for travelling speed of 60 km/h or less by controlling the lateral and
longitudinal movements of the vehicle for extended periods without the need for further driver input.

ALKS
Requirements
1. "ALKS can control the vehicle when the driver is behind the wheel with their seatbelt on." This means that the regulation does not allow driver-less vehicles, as in the case of Waymo. It's important to note that Mobility services are expected to follow different rules compared to passenger cars.

2. The driver can override such systems and can be requested by the system to intervene, at any moment.

Operational domain

3. ALKS can only be activated on roads equipped with a physical separation dividing traffic moving in opposite directions, and where pedestrians and cyclists are prohibited.

4. In its current form, the Regulation limits the operational speed of ALKS systems to a max of 60 km/h (37 mph)

5. Screens for any activities other than driving are automatically switched off as soon as the driver resumes control

6. The Regulation also lays down requirements on how the driving task shall be safely handed back from the ALKS to the driver, including the capability for the vehicle to come to a stop in case the driver does not reply appropriately.

7. The regulations also require vehicles to be equipped with a Data Storage System for Automated Driving — the so-called "black box" — which will record when ALKS is activated.

8. Car manufacturers must also introduce Driver Availability Recognition Systems, which monitor seatbelt use and monitor the driver's capability to take back control of the vehicle, including through spotting eye blinking and closure.

9. ALKS will also need to comply with cyber-security and software update requirements set out in two other new U.N. regulations also adopted this week.
Adoption by counterparties & carmakers
The government of Japan – which co-led the drafting of the Regulation with Germany – will apply the Regulation upon entry into force.

The European Commission, which also contributed to its development alongside, amongst others, France, the Netherlands and Canada, has announced that the Regulation will apply in the European Union following its entry into force.

UN mentioned that a number of major automotive manufacturers are expected to apply the Regulation upon entry into force.
Source: UNECE
What is the outlook for regulatory roadmaps of carmakers for Level 3-4 Automated Driving?
We expect Germany to lead Lv.3 deployment in Europe after the amendment of R79, followed by the UK. German brands, such as Audi, BMW, and Mercedes, did not manage to take advantage of exemptions using Article 20 and Germany's early move of road traffic act amendments. But standardization across Europe will probably start after 2022 – which is a considerable delay for brands such as Audi whose Lv.3 system was scheduled for deployment in Europe in 2018 and it is still not available in the USA, Europe, or China.
Audi become the first to introduce a L3-Driving feature in 2017 with the AI Traffic-Jam Pilot in the 2018MY A8. However, Audi has still not deployed the feature because they have not been granted regulatory approval and validation is pending. Audi's flagship, which became available in Germany by the end of 2017, is equipped with long-range radars, 12 ultrasonic sensors, Lidar and hi-resolution video cameras which will constantly monitor the car's surroundings allowing TJP to guide a car through traffic-jams at speeds up to 37mph (60 km/h).
When Audi's AI Traffic Jam Pilot is active, drivers will be able to take their eyes-off the road and perform side tasks, e.g. read emails. But they must always be available to takeover vehicle control- since they are (by definition) the ultimate back-up. Audi has stated that they will accept full liability while in L3 autonomous mode. Volvo has done the same.
We expect that Lv.3 cars will feature AD-Event Data Recorder (AD-EDR) to handle liability issues. Audi's strategy to deliver Lv.3 marks an intermediate level of autonomy between Supervised driving (SAE Level 0-2) and Unsupervised driving (Level 4-5) which could be described as Conditionally-Unsupervised.
Learn more about Regulation & Carmakers' roadmap's in Auto2x's reports
To understand the current status of autonomous vehicle deployment including the ADAS&Autonomous Driving portfolio of 30 leading brands, read our report: 30 Carmakers' roadmaps in Automated Driving by 2025
To read more about the current state of the art of regulation read our report Regulatory guide to Autonomous Driving, Automotive Cyber Security, V2X & AI. This report analyses the regulatory landscape for the transition from Supervised to Unsupervised-Driving (SAE Level 4-5) to allow the deployment of higher levels of autonomy. Since the future is also Secure and Connected, our analysis also provides a regulatory guide on Automotive Cyber Security and V2X (V2V-V2I).