Mobileye claims that their new super-computer chip combines affordable pricing (under $1,000) with low power consumption, thus solving two critical challenges for mass-market deployment of L4 from robotaxis to cars.

Mobileye
Combined with Mobileye's strong position in software, the new chip could give them a further edge vs competition as the company builds a complete self-driving system (SDS) solution that it can sell to any car manufacturer.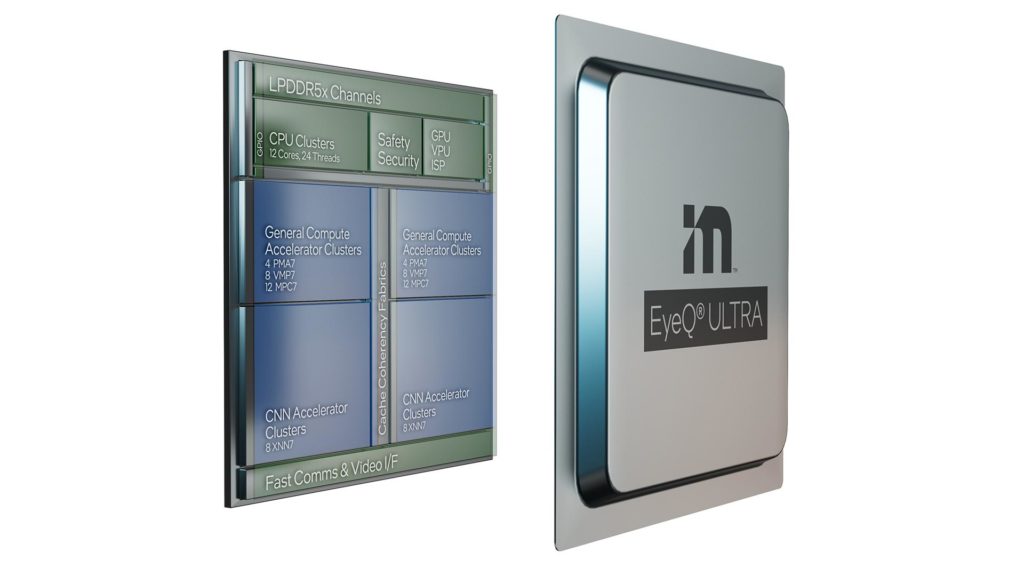 What makes Mobileye's new chip so special: cost and balance of performance with power consumption
One of the main challenges for the introduction of Level 4-Autonomous Driving, which does not require any human intervention in its area of operation, is its high cost – both for development and in terms of pricing for end-users.
L4 requires multiple lidars, radars, cameras, super-computers, and other hardware that increase the Average Cost of Sensors per vehicle from circa $300 for Level 1 to circa $3,000 for L4.

For vehicle owners, this means that Level 4 features could cost tens of thousands of dollars as carmakers aim to recoup investments and make profits. Just check Tesla's FSD price hike from $8,000 in 2020 to $12,000 in 2022 as the company achieves additional autonomous driving functionality.

From the commercial side, a monthly subscription ($199/m) could make it more accessible.

Auto2x
Another issue resulting from the need for multiple sensors and system integration to achieve Level 4 is the high computing power consumption.
Mobileye's latest innovation claims it addresses both challenges and paves the way for more affordable Level 4 systems that could boost their democratisation.
The company said EyeQ Ultra relies on 5nm process technology and it will be capable of 176 trillion operations per second (TOPS). This means that its performance will be equivalent to ten of their current EyeQ5 systems.
EyeQ Ultra's specs to support L4:
12 RISC-V CPU cores
Arm GPU
Arm DSP
SIMD cores
VLIW cores
Coarse grained reconfigurable array (CGRA) cores
Deep learning cores
The Israeli company's new chip for autonomous driving was unveiled in CES 2022 in Jan'22. It will enter production in 2023 and it is expected to reach full production by 2025.
Mobileye has shipped more than 100 million EyeQ SoCs since its introduction in 2004.

Mobileye
Mobileye's plans in Autonomous Driving by 2025

Mobileye reported revenues of $209 million for Q1 of 2019 according to Intel's first-quarter 2019 report, up by +38% from Q1 2018. The company produces its EyeQ4 and EyeQ5 system-on-a-chip (SoC) that handle sensor signal processing and fusion and its Road Experience Management™ system that handles HD mapping and vehicle localization.
A Level 4 driving platform: In 2016, BMW, Mobileye-Intel and APTIV partnered to develop their Level 4 automated driving platform – a highly and fully automated driving system for serial production with expected production by 2021.
Supporting ADAS for global carmakers: Mobileye holds a large market share in the ADAS market. For example:

BMW plans Level 3+/ Level 4 capable vehicle by mid-2022 developed through the partnership formed with Mobileye and Intel.
They collaborate with the VW Group in order to materialize a L2+ that combines the front-facing camera with the Roadmap technologies, enhancing by HD maps the ACC and LKA.
The companyaims to expand its business in China through its strategic collaboration with Great Wall Motors and SAIC.
The company will support NIO in 2022, Honda's L3 in CVs and Zeekr's L4 from 2024, among other clients such as BMW.
They also plan to build and deploy self-driving electric shuttle vehicles with their partners in the United States in 2024.
To learn more about Mobileye's ADAS capabilities and outlook read our report: ADAS Suppliers Rankings and Market Shares.