Car-Sharing in Germany bounced back in 2021. Both the number of customers and fleets are increasing steadily in Germany.
The evolution of Germany's car-sharing market is a key metric for the rate of consumer transition from car ownership to Mobility-as-a-Service in Western Europe's leading car market and one of the top hubs for autonomous, electrified and shared mobility. It also paves the way to the future of mobility with Robo-taxis, Robo-shuttles, aggregate mobility providers and Urban Air Mobility.
The successful execution of leading carmakers' Smart Mobility strategies in their domestic market is crucial as they cannot afford to miss out on the new revenue pools against new Mobility Service Providers.
The evolution of Germany's car-sharing market
Germany's car market was hit hard by the pandemic, with new car sales down by 19.1% in 2020 according to ACEA.
To capture how COVID-19 might have reshaped consumer sentiment towards car ownership and the use of mobility services, a survey by LeasePlan unveiled that 60% of the respondents in the country intends to buy or lease a new car in the next 5 years. Almost all respondents in Germany have access to a car by the end of 2020.

LeasePlan
Car-sharing subscribers rebounded in Q1 2021, while the vehicle fleet continued to grow
Similarly to the hurdles Germany's auto market faced in 2020, the domestic car sharing market witnessed a slowdown in 2019 but managed to rebound quickly at the beginning of 2021. As of January 2021, there were 2.874.400 registered customers across 228 car-sharing schemes in Germany's 855 cities and municipalities according to BMWI.
In 2020, the number of subscribers contracted by 6.9% to 2.29 million year-on-year but Q1 2021 saw a positive trajectory up by 25.5% y-y. The disruption in growth was attributed to the drop in the number of users of Free-Floating services in 2020 as compared to the year before, but the first few months of 2021 saw users return to car-sharing.
Germany's Car-Sharing market rebounded in 2021
The number of customers in Germany has more than doubled in the last 5 years, recording a CAGR of 16% between 2016 and 2020;
Free-Floating services account for the largest share in both vehicle fleet and customers of car-sharing schemes in Germany;
The Car-Sharing fleet in Germany grew with 26% AGR in 2020 recording a CAGR of 12% between 2016 and 2020;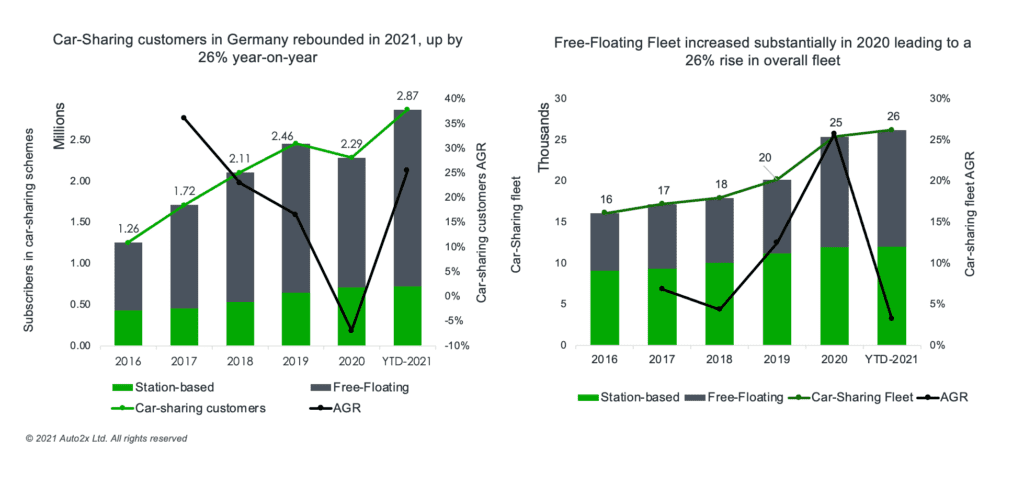 Free-floating car-sharing accounts for the highest share in both users and vehicle fleet
In the free-floating car-sharing market segment, the number of users rose by 36.1% in the first three months of 2021 compared to 2020 reaching 2,150,300 users. Free-floating car sharing, in which the vehicle is picked up using a smartphone app from where the last customer left it, is growing on the existing space, mainly in the large metropolitan regions, such as Berlin and Munich. Free-floating providers offer car-sharing services in a total of seven large cities and the metropolitan areas around them. As for 2020, there were no new locations added.
e-Car sharing penetration rose to 19% in 2021
The share of battery-electric vehicles and plug-in hybrids in the German car sharing fleet is, as of Jan. 21, roughly at 19%. All alternative drives (battery electric, hybrid, plug-in, hydrogen fuel cell, gas hydrogen) combined made up around a quarter of new registrations in 2020.
Nevertheless, in the national car fleet the proportion of emission-free vehicles stay relatively law, only 1.2 percent (0.5% in 2019). The take-up of electric vehicles has been slow in Germany compared to many other European markets (i.e. Norway & Netherlands) despite huge government incentives.
Electric car penetration in Germany, which include Battery Electric Vehicles (BEV), Plug-in Hybrids (PHEV) and Fuel-Cell vehicles (FCV), accounted for 14% of new car sales in 2020, according to ACEA.
Carmakers Vs. emerging competition
The number of car-sharing businesses, cooperatives and associations has remained fairly stable in 2020 as compared to 2019 to 288 schemes. Germany's top carmakers are particularly active in car-sharing in their domestic market, particularly BMW, Daimler and VW Group through their Joint-Ventures and subsidiaries.
The Free-Floating car-sharing market is dominated by the four large providers ShareNow (a JV between Daimler and BMW), Miles, Sixt and WeShare (Provided by VW Group).

Share Now is a Free-floating car-sharing service. In 2020, around 2.9 million customers used the SHARE NOW car-sharing services, which are available in 16 cities and eight countries. The car-sharing fleet currently comprises around 9,500 vehicles, almost one-quarter of which are electrically powered
Daimler with Car2Go has been a leader in B2C Car-sharing and in 2019 announced a deeper strategy shift to focus on mobility with its restructuring. Also, it has announced an alliance with BMW Group to merge their mobility services business units and offer customers a single source of urban mobility. Each company holds 50% of the new joint venture.
VW's WeShare is now available in Berlin and it recently expanded to Hamburg.
Paving the way to robo-taxis & Urban Air Mobility
Robo-taxis hold strong potential to revolutionize mobility. For carmakers, Robo-taxis present significant opportunities, such as amortizing the cost of the sensor set needed for higher autonomy before they can be brought into series production for private cars.
Apart from the automotive industry, a series of industries will experience the benefits of Autonomous Mobility in terms of cost savings and new revenue opportunities. For example, carmakers and mobility providers could see revenues from autonomous car-sharing and ride-sharing grow rapidly as well as from private car ownership due to the transformed role of the car as the "3rd living space" due to increasing productivity.
…"Station-based and free-floating carsharing leads to a reduction of private cars but to different degrees (DriveNow 7%; Flinkster 15%). The shedding of cars is influenced by the frequency of use of carsharing and the increasing membership of station-based carsharing providers".

The Impact of Carsharing on Car Ownership in German Cities (2016)
Finally, Urban Air Mobility, which offers a new way to commute to work and transport goods using electric vertical take-off and landing aircraft (eVTOLs), is expected to be launched soon in German cities by players such as Munich-based start-up Lilium and Daimler-backed Volocopter.
Read more
To learn more about competition and market developments in the next decade read our reports