E-Commerce vehicle sales rise year-on-year as the pandemic reshapes consumer attitude to "digital-first"
More Carmakers Copy Tesla's Online Car Purchase Playbook
Online car purchases fueled by e-commerce rise, enabling tech for a better shopping experience & COVID-19 impact
The pandemic is pushing carmakers and auto dealerships to rethink their digital retail channels and accelerate their online e-commerce offerings to enable more consumers to purchase cars online.
"By the end of this year, you're going to see 80%-90% of U.S. new car dealers with full e-commerce capability in their shops" to handle everything online but the test drive and — maybe — the final signature"

Rhett Ricart, the former chairman of the National Auto Dealers Association (NADA)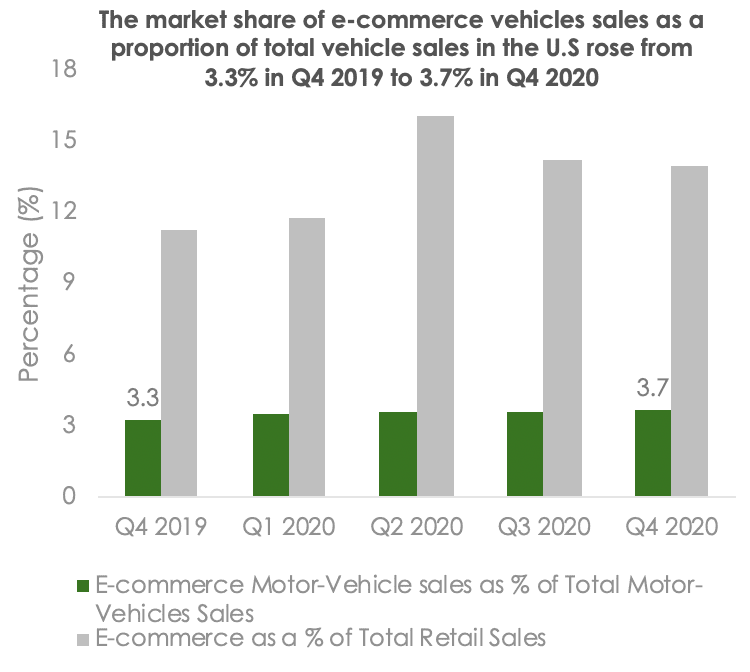 At the same time, COVID-19 is acting as a catalyst for more consumers to turn to online purchases including vehicle sales.
Data from the U.S. Census Bureau indicates that online e-commerce penetration hit 16.1% in the 2nd quarter of 2020, a 49% increase year-on-year.
Online vehicle sales are capitalising on this trend to grow rapidly in the U.S. retail market. Data from the U.S. Census Bureau show that the market share of e-commerce vehicles sales as a proportion of total vehicle sales in the US rose from 3.3% in Q4 2019 to 3.7% in Q4 2020.
Understanding the challenges and the purchasing criteria of today's connected customer
But the challenges and the purchasing criteria of today's connected customer differ from the previous times. Product specification, device interoperability, Connectivity, Content/service availability affect personalised shopping experiences. In this direction, major carmakers are collaborating recently with digital retail providers in order to digitalise their sales platform (and/or their dealerships platforms) and enhance consumer's accessibility to purchasing vehicles online.
A recent example is Tekion's EV-focused retail software for GM's dealers. Tekion will provide GM dealers with its retail management software that will make it easier to purchase a Chevy, Cadillac, Buick or GMC brand electric vehicle. According to the company's announcement, the new Tekion software can process a large portion of a vehicle transaction online, making it simple for customers to search for and buy an EV. GM, alongside Renault-Nissan and BMW, was an early investor in Tekion, which is now valued at over $1 billion.
Enabling Technology: Digital & mobile-first, AR/VR
Competition in Online Car Purchase Business model
In the US, one of the largest car and online sales markets globally, the number of automakers that provide sales through their own digital retail platform is relatively low. Major automakers such as Daimler, Hyundai, BMW, Peugeot, Porsche and Citroen among others have already created sales platforms on their official websites in order to sell their vehicles online. But the vast majority of them involve active dealership participation in almost every aspect of shopping procedure – from vehicle pricing based on existing demand and existing inventory in stock to the signature and the delivery of the purchased vehicle.
Tesla has a substantial lead over Ford and GM, even though lately the two auto giants have made moves in Tesla's direction.
Tesla is targeting direct online car purchases and service, not franchised dealerships
Tesla continues to adjust its retail operations and product offerings (deliveries to customers' homes and workplaces, touchless deliveries etc.) in order to optimize customer experience.
"We are targeting with Model 3 and Model Y, a global mass demographic with a broad range of potential customers" .

Tesla's Annual Report, 2020
FCA Group enhances Online Retailing Experience
FCA has built a digital retail platform that allows customers to complete the entire vehicle purchasing process online, including pricing information, options for financial lending, e-signature and in some cases home delivery. E-Shop is accessible through the Chrysler, Dodge, Jeep, Ram, Fiat and Alfa Romeo websites.
"Shop, Click, Drive" provided by General Motors, aiming to boost the online purchase cycle
"Shop, Click, Drive" allows users to obtain certain GM vehicles (Buicks, Chevrolets and GMCs) through GM's dealership network and complete a portion of the transaction online. The service became particularly popular in the wake of the pandemic- according to GM's announcement dealers have seen a five-fold increase in the number of sales leads they are getting from the "Shop. Click. Drive" service.
Mustang Mach-E retail platform for online car purchases
Ford's online platform enables Mustang Mach-E orders: By this application, Ford enables customers to create their preferred vehicle configuration of Mustang E and complete their payment online. Additionally, Ford has recently launched a new digital platform for used-vehicle sales, branded Ford Blue Advantage.
Read more
Read more
To learn more about competition and market developments in the next decade read our reports