ADAS sensors and ADAS features account for the majority of Automated Mobility's revenues today for carmakers, suppliers, and other stakeholders
In the next decades, the progress in Automated Driving technology and its wider adoption will unlock new earnings from novel "features", and the expansion to new markets, and 8 new industries
Winning strategies will leverage software & AI as well as control over the software value chain to offset downward pressure from less-differentiated, low-cost platforms
The shift to a new Software-based revenue model for Automated Mobility in the 2020s
Today, sales of front-facing cameras, forward-looking radars, and ultrasonic sensors for Autonomous-Emergency Braking, Lane-Departure Warning, and parking maneuvers dominate ADAS sales for carmakers and major suppliers.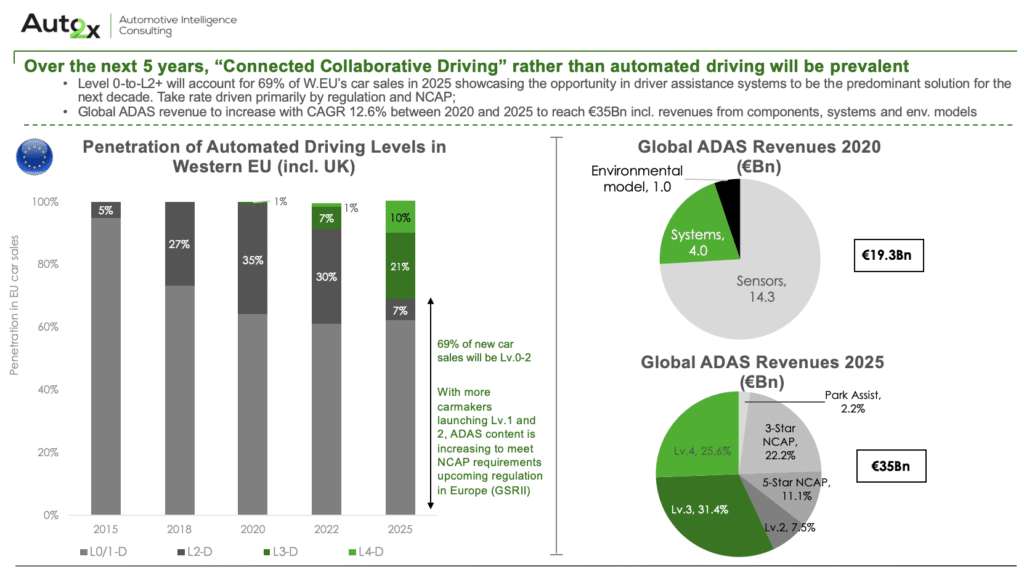 Two reasons why Emerging markets are key to fuel growth in Autonomous Mobility revenues
Developed markets will lead Autonomous Driving revenues for the near to short terms driven by the expertise of domestic players and more favorable consumer adoption. Today, emerging markets face issues with connected infrastructure and the cost of technology which restrict the deployment of even basic ADAS, let alone autonomous driving adoption.
In the long run, though, emerging markets could see the introduction of ADAS and Automated Driving carlines as carmakers shift to more common vehicle platforms, and creating design variants for developed and emerging markets will not be economically feasible anymore. Autonomous driving adoption could be further re-inforced by regulatory mandates for the installation of safety features due to the rising road safety risks from the increasing car parc in emerging markets over the next decades.
The emergence of new emerging markets could fuel growth to Autonomous Mobility revenues and play a crucial role to achieve higher global penetration of Autonomous Driving.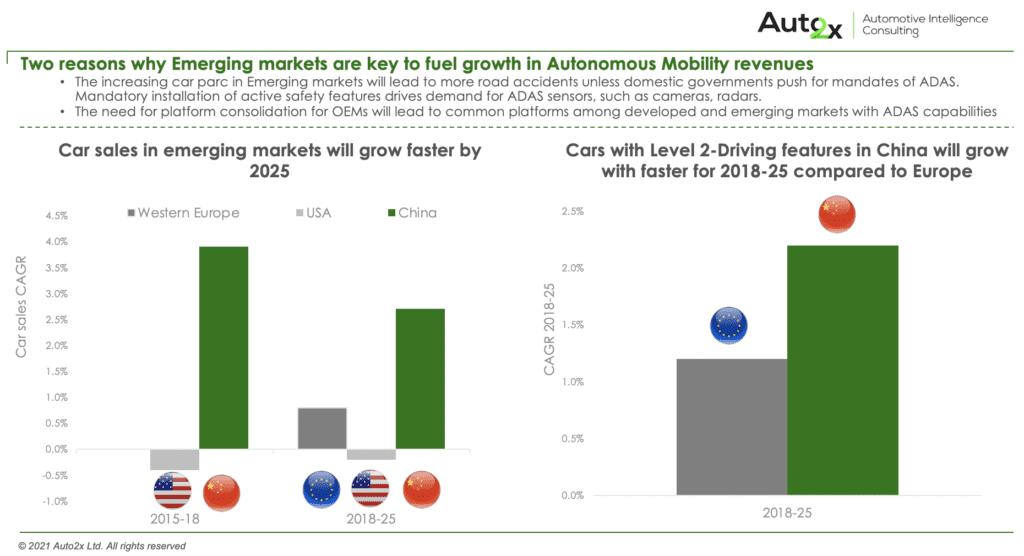 Cost savings & revenue potential in 8 new industries
Apart from the automotive industry, a series of industries will experience the benefits of Autonomous Mobility in terms of cost savings and new revenue opportunities. For example, carmakers and mobility providers could see revenues from autonomous ride-sharing grow rapidly as well as from private car ownership due to the transformed role of the car as the "3rd living space" due to increasing productivity.
Strong revenue growth opportunities in Transportation of Goods, AMoD, IoT, Mining, and Media in the long run
Freight transportation could benefit substantially from Conditional and Fully-automated driving in terms of safety, fuel-efficiency, and traffic. The fast adoption of technologies such as platooning could bring immediate benefits to large fleets. In addition, the Mining industry could leverage object detection and recognition of ADAS sensors to drive efficiencies.
Telecom could benefit from the rising need for Connected Cars which demands investment in infrastructure for a broad network and digital services such as location-based services. Lv.3-Conditional Automation will allow drivers to engage in side-tasks while the vehicle is on automated mode which creates opportunities for onboard entertainment, especially video for Media content providers.
Dealers and aftermarket, Auto Insurance, and Car rentals could see opportunities and risks
Finally, the Automotive Aftermarket and car rental industries will be impacted by the rising usage of shared mobility and the proliferation of electric cars but could leverage opportunities in fleet services.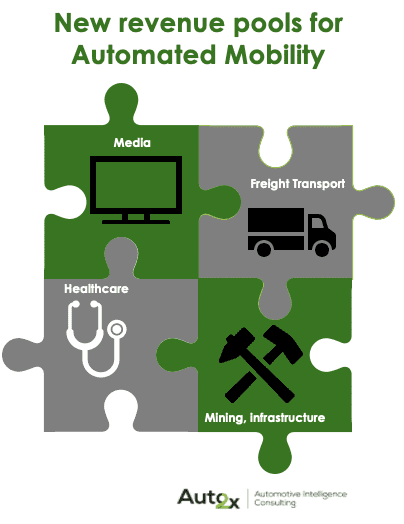 Read more
Read our reports to understand the strategies of major Suppliers in ADAS sensors, AD platforms as well as collaborations. Our reports also provide an in-depth analysis of how the regulatory framework affects the OEM strategy for Level 3 deployment.