VW Group, Toyota Motors & General Motors collectively lost $94.38 Billion of revenues in Q1-Q3 2020 and push for further transformation
Capital constraints faced by carmakers require new strategic approaches in 2021 as the pressure for further investment in autonomy & electrification accelerates
Software-based business models, such as vehicle super-computers and SW-defined architectures, camera-based ADAS for L2/L2+, lidar and AI are the new value pools for carmakers and suppliers
Auto2x reports explore winning strategies of carmakers in Autonomous Driving and Automated-Mobility-on-Demand over the next decade to unlock new revenues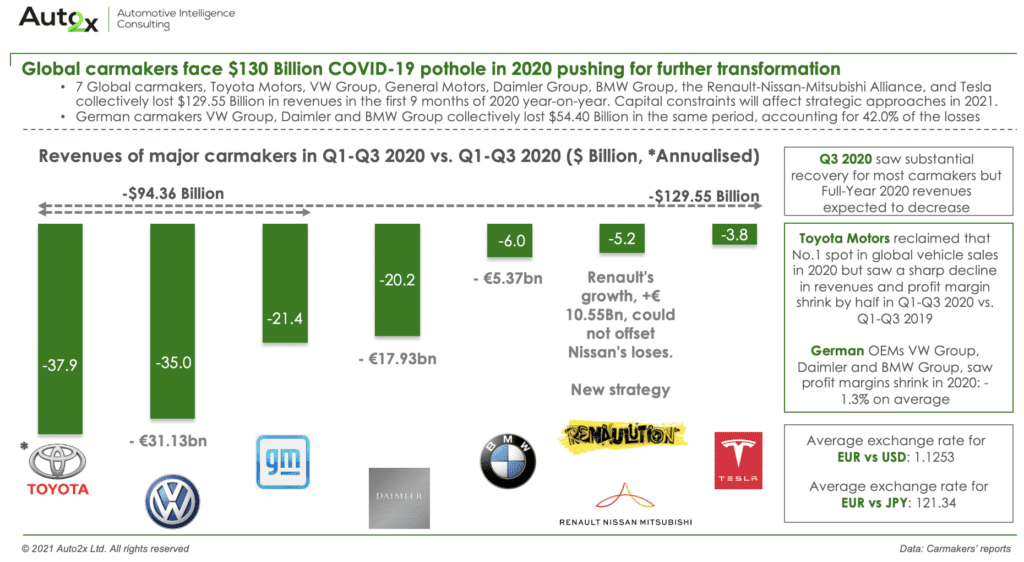 Global carmakers face $130 Billion COVID-19 pothole in Q1-Q3 2020 year-on-year
Toyota Motors reclaimed that No.1 spot in global vehicle sales in 2020 but saw a sharp decline in revenues shrink by 18.1% and profit margin cut by half from 7.5% to 3.8% in Q1-Q3 2020 vs. Q1-Q3 2019.
German OEMs VW Group (- €31.13bn in Q1-Q3 2020, -16.7% y-y), Daimler (- €17.93bn, -14.3%) and BMW Group, (- €5.37bn, -7.1%) collectively lost $54.40 Billion in the same period. The 3 German carmakers saw profit margins shrink in 2020 by -1.3% on average.
Renault's revenue growth by 36.6% in the first nine months of 2020, an increase by €10.55Bn, could not offset Nissan's losses. Renault has recently announced a new strategy called "Renaulution", which "aims to shift Groupe Renault's strategy from volume to value", according to the brand.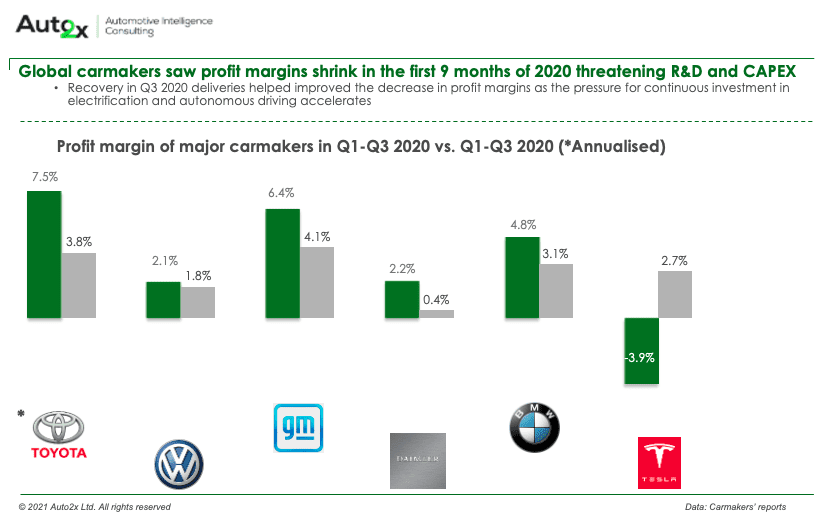 The Top-8 Suppliers recorded automotive revenue of €250.2 Billion in 2019 but saw revenue drop in 2020
Bosch, Denso & Continental led Suppliers' Ranking by global Automotive Revenue between in 2019 among ADAS suppliers. Automotive revenue for Bosch, Continental, and ZF shrank in 2019 whereas Hyundai Mobis and Valeo were among those recording revenue hikes. The Top8 Suppliers in ADAS, incl. Bosch, Denso, Continental, Magna, ZF, Hyundai Mobis, Valeo, and Veoneer recorded automotive revenue of €250.2 Billion in 2019, according to Auto2x analysis.
In 2019, Bosch sales of driver assistance systems rose by 12 percent to around 2 billion euros, according to the company. In 2020, Bosch reported revenues of €71.6 Billion, down 7.9% from the year before.

Bosch
To learn about the rankings and market shares of ADAS hardware component suppliers (radar, cameras, Lidar, ultrasonic sensors) by ADAS revenues read our reports.
Software, ADAS & Autonomous Driving and AI create new revenue pools for Carmakers
EuroNCAP requirements for 5-star safety rating, the General Safety Regulation 2 coming in effect in Europe from 2022 and brand competition push ADAS penetration in EU car sales as part of optional or standard equipment. Also, ADAS can provide new revenues and product differentiation. Carmakers and Suppliers are monetizing the increasing ADAS content per vehicle.
Vision-based fusion technologies will experience strong demand as the rating scheme evolves to incorporate ever more sophisticated functionality Parking assistance, emergency braking, and lane assist systems are the most popular ADAS in the U.K, the NL, Belgium, & France (Bosch survey).
Carmakers will need to continue the investments in ADAS & Autonomous Driving to remain competitive. We assess Lv.0-to-L2+ account for 99% of new car sales across 4 major car markets in 2020 and c.85% by 2025 respectively showcasing the opportunity in driver assistance systems to be the predominant solution for the next decade.

Auto2x
Auto2x expects that leading ADAS players will introduce 71 Level 3 -equipped vehicles in Europe in 2025 while Level 3 penetration will reach 21.2% of new car sales in Europe in that year. A higher level of vehicle automation will require an augmented sensor set, new architecture, and innovative validation methods among others. In more detail, ADAS Average Content per Vehicle in 2020 will range from €489 for Level 2, with 17 sensors per car, to €960-€2.100 for Level 3 depending on the usage of lidar or not for redundancy.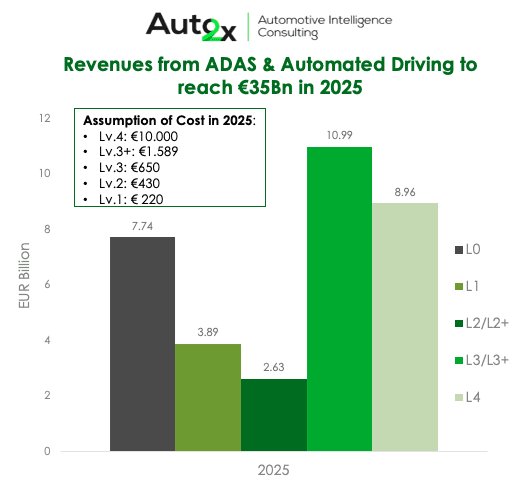 Finally, Software & AI represent new value pools. Software represented around 10% of overall vehicle content in 2018 for a D-segment car ($1,220) & it will grow with a compound annual rate of 11% to reach 30% ($5,200) in 2030, according to McKinsey. Major Tier-1 Suppliers are already monetizing the growth. For example, Bosch has already been building Vehicle super-computers for ADAS & Automated driving and received more than €2.5 Billion worth of orders in this domain in 2020. They expect the market to be worth €20Bn by 2030.
Read more
Read our reports to understand carmakers' strategies to reach higher levels of vehicle autonomy and the opportunities they create for ADAS sensors, AD platforms as well as collaborations. Our reports also provide an in-depth analysis of how the regulatory framework affects the OEM strategy for Level 3 deployment.