The ADAS market grew in 2020 but how did ADAS revenues evolve in 2020 for major Suppliers?
What are the key ADAS technologies experiencing strong demand for Suppliers?
Keys to Top-ADAS Suppliers strategy in 2020-30
1. Top ADAS Suppliers saw ADAS order-book grow in 2020 but revenues dropped
Major Automotive Suppliers are already generating substantial growth from increasing vehicle automation, primarily from radar, camera, and ultrasonics for Level 1 and 2 driver assistance systems which are becoming mandatory across major markets, such as Europe.
The availability of Lv.2-Driving features in Europe, such as Audi's Adaptive Cruise Assist and Tesla's Autopilot, grew by 43.3% in 2020 to 139 models to 5.77 million cars, according to Auto2x.
Auto2x assessed that the Top-3 ADAS Suppliers, Continental, Bosch and Valeo, collectively recorded ADAS revenues of €6.13 billion in 2019, up 29.4% from 2018. The majority of these revenues come from the sales of ADAS sensors.

Auto2x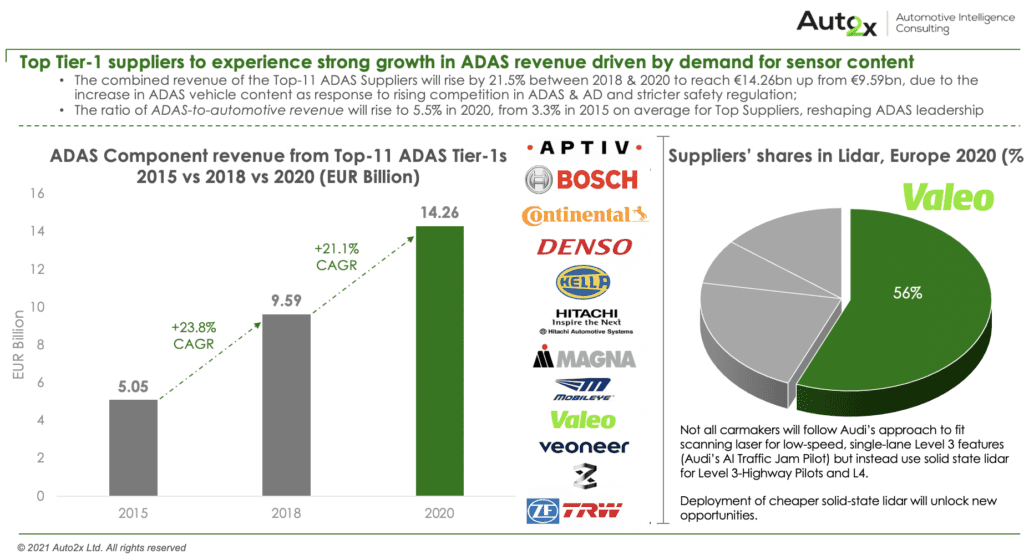 In 2019, Bosch sales of driver assistance systems rose by 12% to around €2 billion. Apart from the leaders, other ADAS suppliers with smaller market shares in ADAS saw a substantial increase in ADAS business in the last 2 years. In 2019, ZF's Electronics & ADAS division recorded sales of €1,848 million, up 10.9% from 2019 (€1.67 billion), according to their 2019 Annual report. The division accounted for 5% of ZF's total sales. The main driver for the growth in ADAS was the rising demand for camera-based ADAS.
2020 was a turbulent year for the auto industry causing rippling effects on Suppliers revenues
Bosch, the world's largest supplier by automotive revenue, saw revenues down by 7.9% in 2020 to€71.6 Billion from €77.7Bn in 2019, according to its preliminary figures.
The pandemic also affected revenues from ADAS despite the growth in ADAS penetration.
The rise in ADAS Lv.1 & Lv.2 launches in 2020 was offset by lower volumes and some delay in the sourcing of ADAS due to the pandemic in H1 2020.

In their latest quarterly sales announcement, Continental said its unit sales of ADAS in Q1-Q3'20 were down year-on-year due to delayed ADAS sourcing.

Valeo's Comfort & Driving Assistance Systems business group saw sales drop by 12% to €3.23 bn in 2020, from €3.65 bn in 2019.

Auto2x
2. Supercomputers & Lidar fueled new growth for ADAS Suppliers
ADAS sensors such as cameras and radar for cruising, parking, and safety ADAS still account for the majority of ADAS sales for major Tier-1s. ADAS suppliers introduced new functionalities in 2020, such as Bosch's new MPC3 video camera with AI-based object detection.
But 2020 also saw new business lines grow in order intake, among them supercomputers and lidar.
In December 2020 Bosch announced they received more than €2.5 Billion worth of orders for vehicle super-computers for automated driving in 2020. Its central computers have been on the roads since 2019 to reduce the complexity of electronic systems. Bosch expects that vehicle super-computers will become a multi-billion market growing to €20Bn by 2030. The company claims its vehicle computers will increase computing power in vehicles by a factor of 1,000 by the start of the next decade enabling autonomous driving, electrification, and connectivity.
ZF announced new contracts won in Domain ECU (in million units).
According to the current TOP500 list of the world's most powerful computer systems, Continental's new supercomputer occupies the top spot in the automotive industry.
3. Keys to Top-ADAS Suppliers strategy in 2020-30
Improving the capabilities of ADAS sensors and systems will not be enough to maintain a strong position in the Connected & Automated market. In addition to the slowdown caused by the pandemic, the automotive revenue pool moves from hardware to software. According to McKinsey, software's share in the value of a vehicle will rise from just 10 percent today to 30 percent in the future.
Suppliers re-organize ADAS segments to strengthen position
Major Automotive Suppliers aim to secure their position as leading providers of automated driving solutions. They are also looking to become providers of Mobility solutions and focus on Software and AI. These forces sparked a strong uptake in the re-organization of ADAS segments of major Suppliers in 2020.
Bosch: To capitalize on the market opportunity for Automated Driving Software, Bosch created a new division called Cross-Domain Computing Solutions, which started operation in Jan'21. The division pulls together the company's software experts.
Continental: New structure started in Jan'20 with the Chassis & Safety division transforming to the Autonomous Mobility & Safety (AMS) under the Automotive Technologies Group
ZF Group's structure was adjusted as of January 1, 2019, with the Active & Passive Safety Technology Division divided into three Divisions: Passive Safety Systems, Active Safety Systems, and Electronics and ADAS.
Read more
Read our reports to understand the strategies of major Suppliers in ADAS sensors, AD platforms as well as collaborations. Our reports also provide an in-depth analysis of how the regulatory framework affects the OEM strategy for Level 3 deployment.