Description
Circular Auto is Mobility's pathway to growth, sustainability and new customer value
Circular Autos represent a new vehicle class; fully-electric, connected vehicles built from the ground up with renewable resources and embedded recyclability.
They could be the silver bullet to the disruption the automotive industry faces; digitalization and sustainability amid the ripple effects of the worsening economic outlook.
Circular Auto is the embodiment of clean, safe and convenient movement of people and goods. The future of vehicles is Digital and Circular, Auto2x
What this report delivers
This report unveils the top opportunities in the transition to sustainable, electrified, connected and shared mobility. Read our report to learn:
How can Circular Mobility lead the automotive transformation to sustainability;
What is the impact of emission regulations and policies for Sustainable Vehicles;
Key technological enablers and the pace of innovation for Circular Autos;
Trends in consumer sentiment;
Strategies to accelerate the transition to Sustainable Mobility
The evolving player Ecosystem: Leaders vs. Followers
Emerging Circularity Hubs
Circular Autos can address environmental goals and digital transformation
Circular Autos represent a new vehicle class with a Total Addressable Market of $3.4 Billion by 2026, Auto2x
Circularity and sustainability are becoming core parts of the strategic direction of carmakers and automotive suppliers due to emission regulations and climate policies, competition and changing consumer needs.
Many passenger car brands are already fully-electric, such as Tesla and Polestar. Still, their shift to climate neutrality is underway, with Tesla not making a commitment yet while Polestar has set 2040 as the goal.
The VW Group is targeting net carbon neutrality by 2050 with a combination of strategies that include a fully-electric car mix, off-setting unavoidable emissions and many more. The VW Group expects its BEV mix to account for 20-25% of sales by 2025, amounting to 2-3 million units, of which VW will amount to circa 1 million.
The latest update of Renault Group's Renaulution plan will include creating a 360° circular economy company from the closed loop in materials to battery recycling, called "The Future Is NEUTRAL", an industry-first, according to the French carmaker.
"Renault Group intends to position itself faster and stronger than competition on the new automotive value chains: EV, software, new mobility and circular economy." Luca de Meo, CEO
BMW aims at a 1/3 CO2 reduction across its value chain by 2030. The Group wants to become climate-neutral by 2050.
Polestar and Volvo have set 2040 as their net-zero commitment target. Hyundai and KIA have set 2045.
Ford, VW, Mazda, Honda, Nissan, Toyota and Isuzu have set 2050.
ZF, a major automotive supplier, is targeting net carbon neutrality by 2040. The company intends to incorporate sustainability as a unique selling proposition, from meeting the highest environmental standards in production to dealing with employees and being a reliable, ethical business partner
Regulations are the biggest driver of transformation to Circular Autos. CO2 fleet compliance and targets for PHEV/BEV sales are increasing the cost of compliance of Internal Combustion Engines and driving the introduction of PHEVs and BEVs.
With the proliferation of electric vehicles, regulations are concerned about the environmental and social impact of EV batteries. The European Parliament is working on an update of the EU's battery directive to ensure that batteries can be repurposed, remanufactured or recycled at the end of their life.
But the shift to sustainability still faces adoption challenges
A plethora of technological innovations in electric vehicle batteries, business models for 2nd life and recyclability, and industry collaboration will be crucial for the shift from Low to Full Circular Mobility. The lack of regulatory harmonization, the absence of global cooperation to develop common standards, and consumer awareness are roadblocks to overcome.
10 strategies to gear-up Circular Autos for sustainable Mobility
Here are Auto2x's Top-10 recommendations to accelerate the shift to Sustainable and Circular Mobility.
Regulators and policy-makers should evaluate mandatory "Green Automobile Manufacturing", e.g., with green steel;
Automotive players must embrace innovations in exponential technologies, such as AI, Big Data, etc. to achieve quantum leaps in their transition to Circularity, instead of incremental steps;
Vehicle manufacturers and shared mobility network operators should collaborate for the development of "Purpose-built" vehicles to electrify ride-hailing and Mobility-on-Demand;
Pursue strategies for the decarbonization of the ICE car parc with e-mobility aftermarket kits;
Accelerate the shift to SDV-Software defined vehicles, which includes advanced electric architectures and connectivity to optimize zero-emission powertrains;
Investigate the optimization of EV Charging infrastructure to close the loop, e.g. charging while driving with electrified roads, while queuing in traffic lights, parked, etc.
Explore new CaaS (Circularity-as-a-Service) business models, such as Energy-as-a-Service (EaaS) with integration of Evs in the smart grid, Component-as-a-Service, such as Battery leasing and swapping and more.
Increase transparency of supply chain activities and resources using blockchain and digital identities, such as BMW's digital passport for EV charging with renewable resources;
Recyclability for second-life of battery and other components, e.g. Li-Cycle's lithium-ion recovery with high efficiency to close the loop in battery value chain;
Cross-industry collaborations to build secure supply chain for sustainability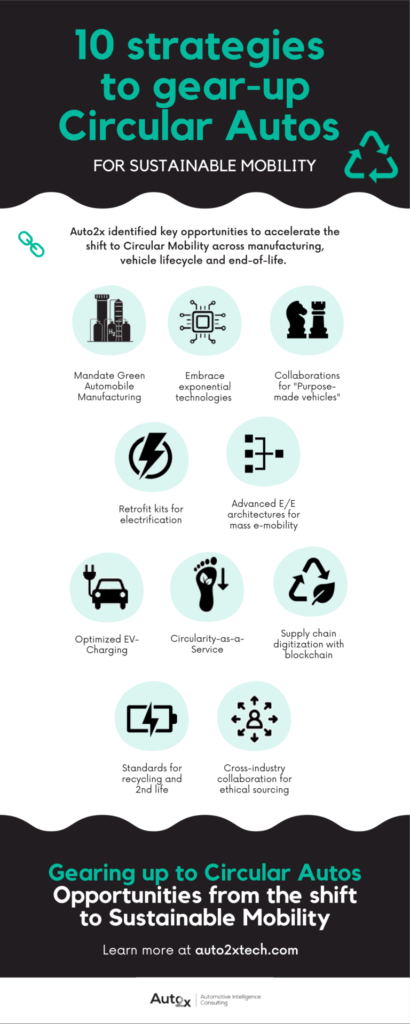 Read more here.
3 innovative companies bringing exponential tech to Circular Autos
Circular Autos are coming to enable zero-emission transport, maximize vehicle utilization to accelerate the shift to sustainability and carbon-neutral economy. Innovation, is critical for the shift of the automotive industry to sustainability, especially in the areas of batteries, fuel cells, recycling, lifecycle optimization and second-life.
Auto2x unveils 3 companies using AI, Data, Computing, IoT, WEB3 are other exponential technologies to accelerate sustainability and Circular Mobility. These solutions have the potential to revolutionize the automotive industry by solving challenges in decarbonization and digitilization of the supply chain.
Posh Robotics is utilizing computer vision, a sub-segment of AI; and robotics, to automate EV battery recycling;
Everledger created "battery digital passports" with Ford to track EV batteries across their lifecycle
IonQ is using quantum computing for material simulation to accelerate the development of electric car batteries
Posh uses computer vision to automate EV battery recycling & circularity
Posh Robotics is using computer vision and robotics for battery recycling. Posh provides robots that disassemble EV batteries automatically for recycling and qualify battery packs for reuse, refurbish or recycle. The company's vision is to automate EV battery recycling to accelerate sustainability and scale energy storage.
The company is tackling the problem of manual disassembly of batteries and the lack of uniformity of batteries, a problem which will become even worse with the proliferation of EV batteries as the penetration of electric vehicles rises.
Posh was founded in 2021 and is headquartered in San Mateo, U.S.A. The company's founders we focused on robots for restaurants initially, before shifting to the mobility industry. The company is currently at Seed Stage. They have received a total of $3.8 million in funding with the last funding round in June 2022 of $3.8m. Competition includes Lohum, Redwood Materials, Li-Cycle, Lithion Recycling.
The company's technology differentiation is the use of computer vision and robotics arms to automate 3 functions: diagnosis and discharge, disassembly and automated testing with could make battery recycling fast, safe and scalable for reuse.
Everledger's battery Passport to track battery lifecycle and end-of-life
Everledger, a London-based company focusing on digital transparency, launched a battery passport pilot with Ford Motor Company in Oct'22 to ensure the responsible recycling of Electric Vehicle batteries. This battery digital passport will allow Ford to gain visibility on out-of-warranty batteries and validate responsible end-of-life recycling, according to their press release.
The company is working on projects that digitalize the supply chain for sustainability and better transparency.
IonQ's quantum computing tech aims at the optimization of EV battery development
IonQ has announced a project with Hyundai to optimize battery chemistry for electric cars through simulation with quantum computing algorithms. IonQ claims it can address many of these issues with quantum technology in areas such as battery efficiency and boosting the capacity of energy grids, according to sources.
The VW Group is also working on quantum computing to identify solutions to EV batteries, traffic optimization and more.
How to simultaneously tap into the $1.4 Trillion Mobility-as-a-Service (MaaS) and the $2.5T for Automotive Sustainability
Balancing rising demand in MaaS with sustainability is a key to success

Demand for Mobility-as-a-Service (MaaS) will skyrocket by 2030 to $1.4 Trillion, or 19% of global Automotive revenues, driven by increasing urbanization and mandates for sustainability.
MaaS incorporates shared mobility services such as ride-hailing, car-sharing, micro-mobility, services integrated with public transport and alternatives to private car ownership, among others.
While a lot has been written about the impact on private car ownership, automakers and automotive suppliers, the impact on transit operators, fleet management service providers and municipalities is often overlooked.
Miles driven by ride-hailing fleets will triple between 2022 and 2030 (CAGR 15%), driven by a 25% drop in cost per mile to $1.5 in 2030.
Public miles driven will rise by 9% by 2030
Personal miles by 13% in the same period.
To capture the size of the opportunity New Mobility Services present for the automotive industry, we outline some forecasts from recent reports from Goldman Sachs and McKinsey. Even though the two reports follow different market definitions, a common perspective is the expectation that the additional revenues of the auto industry from new mobility services (e.g., ride-hailing) will increase by approximately $1.5 trillion by 2030.
McKinsey estimates the revenues from new services, which include Mobility-as-a-Service as well as data connectivity services to grow from $30 billion in 2015 to $1.5 trillion in 2030, achieving a CAGR of 30% for the 15-year period.
These new revenues will be the primary fuel for the growth of overall Automotive Revenues to $6.7 trillion in 2030, from $3.5 trillion in 2015 as One-time-vehicle sales will record only 2.5% CAGR for this period.
Goldman Sachs estimates that the Total Addressable Market (TAM) of the New Mobility market, which is a combination of existing and new markets, will rise by $1.4 trillion between 2020 and 2030 (from $7.05 in 2020 to $8.4 trillion in 2030). A deeper segmentation of the ride-hailing market expects ride-hailing miles to grow four-fold between 2020 and 2030 and revenues three-fold to $409 billion.
Who is this report for? Essential functions that would benefit from our research
R&D
Innovation
Regulators, Regulatory bodies
Homologation experts
Academics and researchers
Strategy
Market Intelligence
Procurement
Investment professionals
To learn more contact info@auto2xtech.com