Description
ADAS Suppliers will more than double their revenues between 2021 and 2025 to reach €35 Billion
ADAS Suppliers will increase their revenues to €35 Billion in 2025, capitalizing on the increasing fitment of sensor content for Level 2-3 and Level 4 autonomous driving.
The Autonomous Driving market presents strong opportunities for incumbent suppliers and OEMs, but also for new players with expertise in AI, compute and cloud technologies.
Read our report to learn about the rankings and market shares of the major suppliers in ADAS & Automated Driving by revenues, sensors and applications.
The ADAS companies and ADAS Suppliers examined include APTIV, Bosch, Continental, Denso, Hella, Hitachi, Hyundai Mobis, Magna, Mobileye, Valeo, Veoneer, Zenuity, ZF, Baidu, Huawei, Microsoft, Qualcomm, Samsung.
Our report also provides forecasts by 2025-30 by key sensors and major geographies.
Learn about the ADAS suppliers' automated driving technology capabilities with

in-depth analysis of their ADAS portfolio of sensors for Sense-Plan-Act: 77/24GHz radar, forward-looking and surround camera, Lidar, ultrasonics in major markets;
assessment of their Lv.1-4 features, by Driving & Parking; and their future roadmap
benchmarks against competitors in sensors and systems

Understand their value proposition, differentiation and competitive advantage from the assessment of their strategy and execution including

investments, partnerships, M&A, Joint-Ventures and new facilities to build capacity;
their organizational structure incl. key divisions for ADAS and key stakeholders;
initiatives in Automated Driving: pilots and policy

Assess their market leadership :

Rankings by global ADAS revenues 2015-2021 (overall revenues across their product lines)
Rankings by ADAS-to-Automotive Revenue up to 2021 to demonstrate that Automated Driving is a growing revenue pool;
By Market shares of ADAS Sensors in Europe, USA and China sensors: radar, camera, Lidar, ultrasonics
Competitive assessment in terms of Autonomous Driving Readiness to Level 4: Technology, Strategy and Market Position; a forward-looking metric of competitiveness
Benchmarking of radars, cameras and lidars across Suppliers
Untapped ADAS revenue growth for ADAS Suppliers in the 2020s: €35 Billion by 2025
The Top-4 Automotive Suppliers of ADAS are all European, Bosch, Valeo, ZF and Continental, according to Auto2x's Global Supplier Ranking by ADAS Revenues.
"ZF and Continental broke the €2 Billion mark in ADAS revenues in 2022, but challenges persist".
The 4% growth in automotive production in 2022, combined with the higher sensor fitment to support new launches of Level 2-3 systems, benefited their ADAS sales and Order Books.
ZF achieved 33% growth in ADAS revenues in 2022 to €2.4 Billion, from €1.8B in 2021. ZF ranked 3rd in the Global ADAS Ranking by Revenues in 2021 from Auto2x with 11% market share.
Continental saw 23% growth in ADAS sales to €2.1 Billion in 2022, from €1.7B in 2021. ADAS accounted for 11% of Continental's Automotive revenues.
Mobileye is recording lower revenues from ADAS but has high market share. In May 2023, Mobileye's CEO announced the integration of their Mobileye SuperVision to Porsche's future models, following fitment in Geely models in China.
Most of the ADAS revenue comes from sensors (cameras, radars, lidar, ultrasonics and supercomputers) to support Level 1-2 features.
Revenues from ADAS & Automated Driving will almost double between 2021 and 2025 to reach €35 Billion due to the increase in sensor content. Level 3 and 4 require enhanced redundancy, new centralized architecture, & driver-facing camera among others. This will drive demand for ADAS sensors, super-computers, AI, HD maps etc. It will also drive further collaboration between OEMs and Tier 1s-2s for the development of AD platforms.
"Revenues from ADAS & Automated Driving will reach €35 Billion due to the increase in sensor content, says Auto2x"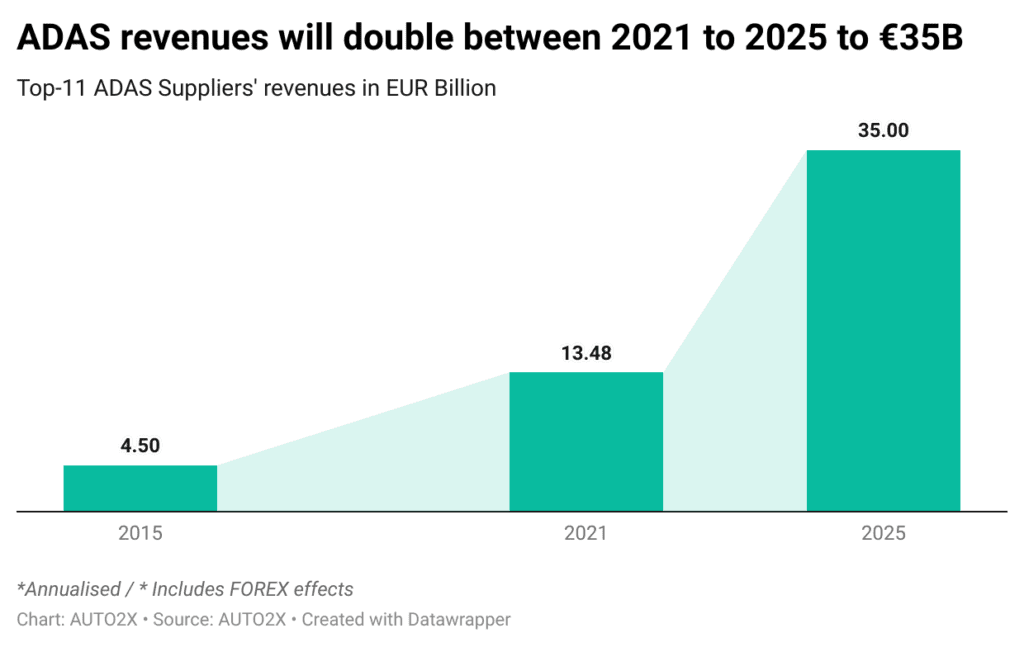 When taking into account the ADAS Order Intake for 2016-22, we can see the strong demand Aptiv, Bosch and Continental are already experiencing for their ADAS portfolio. Actually, for Aptiv it's almost 5 times higher than its 2016 ADAS revenues whereas for Bosch and Continental it's a 2.9 and 3.5 multiple respectively. 
These figures demonstrate that these suppliers already have a substantial ADAS order book in place, which could take circa 3 years to deliver, without factoring in new business (e.g. for higher autonomy). Therefore, there is strong potential for ADAS revenue growth until 2020 and beyond. 
ADAS Growth reshapes ADAS Suppliers' Rankings by ADAS Revenue
In 2022, Continental's Autonomous Mobility (AM) division recorded revenues of €2.1 Billion, up 23% from 2021 (€1.7 Billion), which surpassed 11% of its total Automotive revenues, (Source: Continental)
Auto2x assesses that in 2019 Bosch overtook Continental in terms of global ADAS revenues and maintained this position in 2020. This was attributed to the higher ADAS revenue growth Bosch recorded for the period 2015-2020 (Bosch CAGR: 32.9%) compared to Continental (CAGR 27.7%).
Continental led the ADAS market in the period 2015-2018 in terms of revenues, mainly by capitalising on its dominance in the camera market.
Bosch followed as second leveraging a strong position in radar and camera which can support Level 1 and L2 features.
As safety & convenience ADAS proliferate in Volume brands in major markets and premium OEMs shift to L3 from 2021, ADAS content will rise significantly. Positioning in camera, radar and lidar will be crucial to increasing ADAS & AD revenues.
Auto2x expects that in 2022, 42 models capable of Level 3 autonomy (Traffic Jam Pilot, Highway Pilot) and 108 models with Level 2 (Traffic Jam Assist, Cruise Assist) –mostly as optional equipment -were offered in Europe, as the regulatory hurdles gradually clear away.
Since many carmakers don't manufacture ADAS features or sensors in-house, they rely on suppliers who are the leading manufacturers and distributors of components and features.
"Auto2x assessed that the Top-3 ADAS Suppliers, Continental, Bosch and Valeo, collectively recorded ADAS revenues of €6.13 billion in 2019, up 29.4% from 2018. The majority of these revenues come from the sales of ADAS sensors.The leading 11 ADAS Suppliers will experience average ADAS revenue growth of CAGR 21.2% between 2018 and 2020 which will lead to changes in the global Ranking-by-ADAS Revenue."
In 2019, Bosch's sales of driver assistance systems rose by 12% to around €2 billion. Apart from the leaders, other ADAS suppliers with smaller market shares in ADAS saw a substantial increase in ADAS business in the last 2 years. Bosch, the world's largest supplier by automotive revenue, saw revenues down by 7.9% in 2020 to €71.6 Billion from €77.7Bn in 2019, according to its preliminary figures.
In 2019, ZF's Electronics & ADAS division recorded sales of €1,848 million, up 10.9% from 2019 (€1.67 billion), according to their 2019 Annual report. The division accounted for 5% of ZF's total sales. The main driver for the growth in ADAS was the rising demand for camera-based ADAS.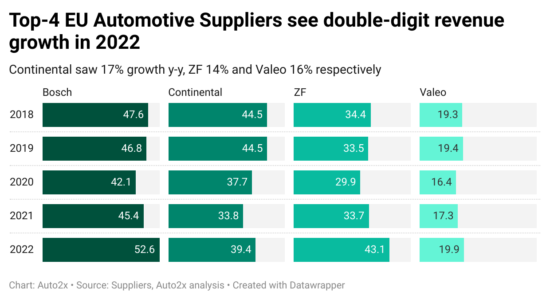 Supercomputers & Lidar fueled new growth for ADAS Suppliers
ADAS sensors such as cameras and radar for cruising, parking, and safety ADAS still account for the majority of ADAS sales for major Tier-1s.
ADAS suppliers introduced new functionalities in 2020, such as Bosch's new MPC3 video camera with AI-based object detection.
New business lines grow in order intake, among them supercomputers and lidar.
Bosch announced they received more than €2.5 Billion worth of orders for vehicle super-computers for automated driving in 2020. Its central computers have been on the roads since 2019 to reduce the complexity of electronic systems. Bosch expects that vehicle super-computers will become a multi-billion market growing to €20Bn by 2030. The company claims its vehicle computers will increase computing power in vehicles by a factor of 1,000 by the start of the next decade enabling autonomous driving, electrification, and connectivity.
ZF announced new contracts won in Domain ECU (in million units).
According to the current TOP500 list of the world's most powerful computer systems, Continental's new supercomputer occupies the top spot in the automotive industry.
Innovative start-ups want to enhance perception for ADAS and autonomy while also enabling software-driven capabilities
"There are a lot of long range LIDAR players out there today but only a few in the nearfield, short range, says Paul Drysch, the Founder and CEO of PreAct Technologies. PreAct was founded in 2018 and its headquartered in Portland, Oregon.
We want to replace other sensors with our short range lidar that could enable better functionality and convenience at the same cost", Paul Drysch, the Founder and CEO of PreAct Technologies
"That's why we specifically decided to only go after the nearfield market. When we started the company, over three and a half years ago now, there was essentially nobody doing nearfield LIDAR. Everybody was focused on long range. Long range LIDAR is a technology that's looking for a market.
On the contrary, nearfield sensing is already a $30 billion a year market. Sensors used are either ultrasonic sensors, short range radar, or RGB cameras, or some combination of that. We started the company with the goal of replacing those other nearfield sensors with ours. Why is that important? Because ultrasonic sensors and short range radar, especially very old technologies, are really holding back a lot of the self-driving functionality".
ADAS Suppliers are well-positioned to monetise the strong demand for ADAS components
Already, Top ADAS Tier-1s such as Bosch, Continental and Aptiv, have recorded billions in ADAS Order Intake while they continue to invest to increase production capacity and shorten time-to-market. To close the technological gap and accelerate time-to-market, partnerships and synergies gain momentum to share costs and knowledge.
Major Automotive Suppliers aim to secure their position as leading providers of automated driving solutions. They are also looking to become providers of Mobility solutions and focus on Software and AI. These forces sparked a strong uptake in the re-organization of ADAS segments of major Suppliers in 2020.
Bosch: To capitalize on the market opportunity for Automated Driving Software, Bosch created a new division called Cross-Domain Computing Solutions, which started operation in Jan'21. The division pulls together the company's software experts.
Continental: New structure started in Jan'20 with the Chassis & Safety division transforming to the Autonomous Mobility & Safety (AMS) under the Automotive Technologies Group
ZF Group's structure was adjusted as of January 1, 2019, with the Active & Passive Safety Technology Division divided into three Divisions: Passive Safety Systems, Active Safety Systems, and Electronics and ADAS.
Chinese ADAS Suppliers emerge to support the domestic market 
Chinese Suppliers of ADAS have built a strong supply-chain relationship with Chinese carmakers and tech companies.
Alibaba's high-precision maps are embedded in AutoX and XPENG's smart-driving pilots,
Baidu's Xiaodu in-car OS is embedded in Chery's premium SUV brand Exeed.
GAC's ADiGO driving assistant package is enhanced with Baidu's cloud computing and intelligent digital marketing solutions;
Huawei Lidar technology is integrated into BAIC's Arcfox S; Huawei's new-generation Balong 5000 5G chipset that enables 5G and V2X communication for GAC's BEVs;
Tencent's SoC has been successfully integrated into several Geely models;
But a further transformation of suppliers is needed to capture software business models
As mobility shifts from product to service, the world's biggest automotive ADAS suppliers are striving to develop capabilities in AI and software.
As new competitors enter the market, such as Qualcomm with the acquisition of Veoneer, legacy suppliers will need to protect existing contracts and expand to more carmakers and new business models to retain revenue growth.